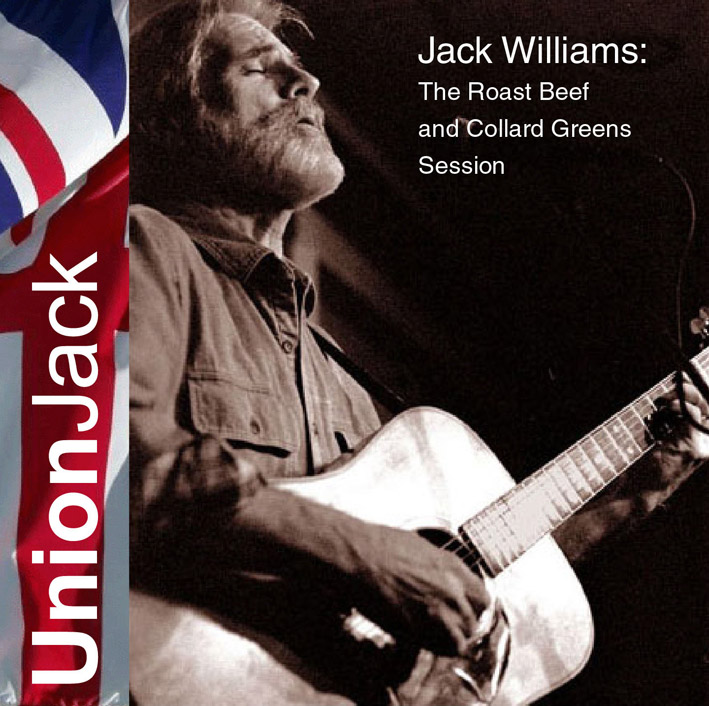 One Damp April Night in Down Town Southampton: England June 7th 2000
"Or the night that Jack Williams gave a premier show, just for me"

I spotted a small pre publicity notice in the Entertainment Page of the local daily: "The Southern Evening Echo". Telling me that a guy, whom I'd never heard of before, called Jack Williams: a singer, song writer from the States was on tour in the U.K., & that the following Wednesday he would be playing at the `local spit & sawdust'; "The Talking Heads". Bad night, I thought. Wednesday night at" Talking Heads", made worse when all the university students were away home for half term. "You'll likely see more life in a tramps [hobo's] vest!"

Must have been the homespun photo, or perhaps it was lure of hearing some good ol' fashioned, rooted folk music. Anyhow, I was off to see just what this guy was all about, & at the same time perhaps revive some of my own years, long past, as a student front-singer in a folk trio called `The Klan' [Putting down The Klu Klux Klan]. A distant
memory of us hippy students in the 60's doing our small bit for racial equality. Singing the songs of the Americas for our supper: racial equality, mining disasters, railroad songs & anti war: folk lore, western lore. To be truthful, looking back, we understood very little, but we sure did sing one hell of a lot!

So, with curiosity scratching my feet I set off for "The Heads", as the locals call the place. It was cold, it was wet, & by the time I arrived at the Bar, a damp depression had wrapped itself, like a cloak, around me. I looked around. Six people! It was a bit like trying to have a wedding celebration in a mortuary. There would probably have been more bodies in a mortuary come to think!

Comes 9.00pm. & the crowd had swelled in numbers to 20, when a tall, bearded, unassuming guy strolls through & starts chewing the conversation with friends at the bar. From photos on the wall, this has to be "Jack Williams". I sit there over a never ending beer, trying to remember what it had been like in "the good ol' days", trying to get over the message in empty bars, on a bare stage to folk who really weren't interested. Christ, I thought, this guy is sure going to have his work cut out here!

He wanders over to the corner stage, picks up the guitar, checks the tuning, rolls a few chords, nods a "good evening" to one an' all; slowly wanders into a vocal "Hometown Boy". Half way through the song I'm sleeping, or am I just dreaming. Back with the boys in the Band on a Friday night at "The Jug" [The Jug Of Punch Club]. Back in college days & college ways in the 60's. Someone, or something, has tripped the ol' memory button. Old, familiar faces are smiling from out of that glass of beer, feet are tapping, the girls & boys are back croonin' in on the chorus lines as clouds of cigarette smoke waft across the bar room, & I wake up from the total enjoyment of this man's music, as he apologizes for the effect of the smoke on his vocal chords!

I give myself a little pinch, & another swig of that ever lasting beer, just to make sure that my dreamings are a for real. Is this guy for real? Without my being aware, he's starting to take me on a Folk musical journey. Stories in music. Life's experiences shrink-wrapped in song. This could turn out to be a special night to remember! I settle back in my chair, nestle the beer in the palm of my hand & drift off into a musical experience like nothing else I have been privileged to hear for 30 years. Craftsmanship, professionalism. A mix of musical story telling blended with Folk Root: well seasoned with sincerity.

He talks in almost reverent tone about some guy called Mickey Newbury, then `chews over' the connection & pedigree...This is getting more interesting by the minute. "A two CD. Set", he says.. `It might as well be the Moon'...."Marie Rhines on violin".."a masterful compilation". To late for reflection: I'm off up there in Folk Fairy Land! Slips lazily into `The Old Buckdancer's Gone'. Fingers drummin'; toes are a tappin', as he takes me on a private trip `Across The Winterline'. Pictures drawing in my mind. Sand swept, disused military air base. Rusting, corpse-like, aging , air force hard wear. Row, upon row, upon row. Hinges creaking in the wind, tumble weed rolling, birds patrolling overhead, riding the thermals? Wait,.... there`s laughter of kids playing somewhere in this story told: `Playing On The Runway'. The birds can fly, the tools of war will die, but the simple play of kid's paints a thought provoking comparison indelibly engraved in the listeners memory!

Then a change of mood. Like a skilled storyteller of years long past. Sing the song, draw the picture. Trying to tell it as it really was! The smell of fresh baked cakes & bread yeast: cinnamon, treacle sugar mix. The unique wood burning smell of a pot bellied stove, smoke wafting the mouth-watering aromas from `Mama Lou's'. Can this man's
music really make you feel hungry?

We `skitter' into swampy glades, plucking strings in toe tappin' rhythms. Following the musical fortunes of the `Waterbug', I travel a musical journey "Across [And through] The Winterline". Stepping Out, & upping the tempo, he treats his audience to a superb rendition of `A Good Heart Shows', & I anchore my arse to the seat in order to stop the beer `slurping' & my feet from square dancing across the bar! The interval comes & goes all to quickly. I'm having a cost free holiday here! This man is singing, playing, & guiding me through "Carolina in My Mind".

This is a musical cake like mama used to bake. There's a hint of jazz, a strong serving of blues, traditional country, a lot of soul, & even a touch of what we Brits call `Hilly Billy Rock. As for me, I've arrived at Folks Pearly Gates, St Peter has opened the door, & I
just danced on through into "Eternity & Main"!!!

The evening ends all too soon. I buy up every CD. that he has brought with him. He signs my copies "To Brian. Thank You! Jack Williams", & all to soon I find myself, coat around my shoulders, braced against the wind & rain, heading for the car & home.


After Thought

We all of us have our favourite places. Somewhere, where we can some times just sit & put our lives into perspective. I have a spot not far from where I live in Eastleigh. A place, as our Australian friends would say: " for the dream time". I drove the car there the following Sunday, sat a while, just listening to the wind in the trees, the birds singing & the crickets chirping. Placed one of Jack's CD's into the player: "Eternity & Main", track 12 "The Outlaws Dream", & do you know, "The sun was so strong that it made my darn eyes water".

I don't know if Jack Williams ever intends to come over to England to Tour again? I sure do hope so! One thing is for certain: I travelled 3 miles to listen to his music this time around. Next time, & for certain within a year, I will be prepared to travel 3000 miles to Carolina to listen to his music again.

In this man you have a national music treasure for sure!
Ragamuffin Brian: October 2000
<![if !supportLineBreakNewLine]>
<![endif]>